A Beihang delegation, led by President Xu Huibin, has completed a three-country set of visits to Europe, October 12-21, 2016. Following a series of meetings, closer ties have been forged between Beihang University and several leading universities in Europe.
Spain
Beihang and Universidad Politècnica de Madrid (UPM) have signed a Memorandum of Understanding committing both universities to building a strategic partnership. The two universities are expected to upgrade and expand joint activities to achieve long term collaborations with greater impact.
The agreement was signed in Madrid on October 13, when UPM's new rector Professor Guillermo Cisneros met with Professor Xu Huibin, President of Beihang.
The signing of the agreement marks a new era of cooperation for Beihang and the top technical university in Spain, whose partnership dates back to 2007 and has directly benefited over 200 students and researchers on both sides.
The Beihang delegation visited Universitat Politècnica de Catalunya (UPC) on October 14. They were greeted by UPC Rector Professor Enric Fossas, Professor Lourdes Reig, Vice-Rector for International Relations, and Professor Fernando Orejas, Vice-Rector for Research. The delegation was also shown around the Barcelona Supercomputing Center on UPC campus.
During the top-level meeting, discussions included student exchange, staff mobility, joint research, and Erasmus+ programs. The two sides have agreed to make a concerted effort to enhance professor-to-professor links and collaboration in aerospace, materials science, and computer science.
Beihang partnered with UPC in 2010 and has since engaged 50 students in mobility programs with this esteemed technical university.
Portugal
On October 17, the delegation visited Instituto Superior Tecnico (IST), the best technical university in Portugal, and Universidade de Lisboa (ULisboa), to which the IST is affiliated.
They met with Professor Luís Ferreira, Vice-Rector of ULisboa, and Professor Rogério Colaço, Vice-President for Administrative and Financial Management of IST.
Beihang and IST established a partnership in 2014 and have implemented a dynamic student exchange program. The meeting created an opportunity for the both sides to exchange the latest education and research information.
While exploring further opportunities for collaboration, the two sides expressed a common interest to formalise the relationship between Beihang and ULisboa to help expand the horizons for students and staff at both institutions.
United Kingdom
In the United Kingdom, the Beihang delegation met with senior staff of the University of Leeds and Imperial College London. They also made connections with alumni in the country.
At the University of Leeds, the delegation met with Professor Hai-Sui Yu, Pro-Vice-Chancellor: International, and Professor Lisa Robert, Deputy Vice-Chancellor for Research and Innovation.
On behalf of the two universities, Professor Xu and Professor Robert signed a general agreement for academic and research collaboration, thereby formally establishing a university-wide partnership.
The two sides also discussed student exchange, cotutelle, and joint research. They confirmed that research collaborations would be focused on high-temperature materials, fluid mechanics and medical engineering.
Leeds is one of the world's top 100 universities and part of the Russell Group of leading UK universities. It is considered by Beihang as a strategic partner in the UK.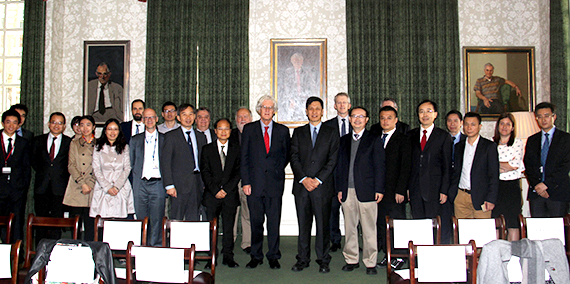 On October 20, the delegation visited Imperial College London and attended a bilateral workshop jointly organized with Imperial's Faculty of Engineering. A team of 15 senior professors and staff members, headed by Dean of Engineering Professor Jeff Magee, attended the event.
Other attendees included Head of Department of Mechanical Engineering Professor Peter Cawley, Head of Mechanics of Materials Professor Jianguo Lin, Professor Bill Jones, Professor Yannis Hardalupas, Professor Alexander Taylor, and Professor Peter Childs. They all have had extensive collaborations with related faculty of Beihang.
Dr. Ma Jinxi, Associate Vice President International of Beihang, and Professor Magee together signed a letter of intent confirming a shared interest for future collaborative activities. The initial areas of joint input would be Advanced Engine Design and Thermal Fluids, and Materials and Processing Technologies.
As the first official agreement between Beihang and Imperial's Faculty of Engineering, it will bring about a number of opportunities for students and staff at both institutions.
The signing ceremony was attended by Mr. Lei Fengyun, Chief Representative of China Association for International Exchange of Personnel (UK), and Mr. Peng Sizhen, First Secretary Sci & Tech, the Embassy of the People's Republic of China in UK.
On October 19, the Beihang delegation visited the Chinese Embassy in UK and met with Minister Counsellor for Education Mr. Wang Yongli. They shared the latest information on China-UK cooperation in education, technology, and culture.
Meanwhile, the Chinese embassy hosted a special ceremony for the inauguration of Beihang Alumni Association in the UK.
Making the ten-day trip in October with Professor Xu were Assistant President Dr. Zhang Guang, Associate Vice President International Dr. Ma Jinxi, Dean of School of Aeronautical Science and Engineering Professor Wen Dongsheng, Deputy Director of President's Office Dr. Zhang Yi, Deputy Chief Financial Officer Ms. Xu Jing.
Oct 25, 2016