On June 25, the 12th Beihang University Vision Forum for International Young Scholars was held online.
On June 25, the 12th Beihang University Vision Forum for International Young Scholars was held online. More than 500 young scholars from world-renowned universities, including Massachusetts Institute of Technology, Harvard University, University of Oxford, University of Cambridge, and Stanford University attended the forum. Dr. Zhao Changlu, Chairman of Beihang University Council, and Dr. Zhao Gang, Vice Chairman of Beihang University Council, attended the opening ceremony of the main forum.
Dr. Zhao Changlu extended a warm welcome to young scholars from home and abroad. He noted that nurturing future talents has always been a top priority for Beihang University. In the past 70 years, aiming at fostering virtue through education and serving the country's major needs, generations of Beihang faculty and students have devoted themselves to education and science and technology innovation, supporting the university's development in various aspects. Beihang will celebrate its 70th anniversary this year by launching new projects and making new achievements. On a recent education conference, Beihang has put forward the Blue Sky Cultivation Action Plan in the New Era, a strategy that includes a series of concrete measures to guide our high-quality talent actions. He emphasized that Beihang is craving for talent in the times of unprecedented opportunities and challenges. He hoped that the Vision Forum would serve as a platform for young scholars to focus on academic frontiers, exchange ideas and show their talents. Hopefully, more and more young scholars can take this forum as an opportunity to get to know and even join in Beihang, to achieve their careers goals and dreams.
Prof. Wang Zili, member of Chinese Academy of Engineering, announced the winner of the best conference journals of the 11th Vision Forum. He hoped that the winners will continue to serve the major needs of the country and devote themselves to teaching and scientific research, making more contributions not only in their respective fields, but also in the fields of aeronautics and astronautics if we can work together at Beihang.
Dr. Zhao Gang reviewed the development of Beihang since its birth, introduced the history of the development of Beihang's schools and colleges, the current situation of the construction and development as well as the future planning and goal of Beihang, and gave a detailed summary of Beihang's achievements in talent cultivation and sci-tech innovations. He welcomed young talent to join Beihang and grow together with Beihang.
In the session of special reports, three invited experts delivered cutting-edge reports in related fields. Prof. Wang Zili, Prof. Yang Shubin from the School of Materials Science and Engineering, and Prof. Xu Mai from the School of Electronics and Information Engineering gave their reports respectively.
During the discussion session, Prof. Yang Lijun, Prof. Zhao Weisheng, Prof. Wu Ruilin, and Prof. Du Yi introduced the university's policy in development planning, discipline construction, research platform support and resources guarantee, and shared their experience and insights on university selection and personal development.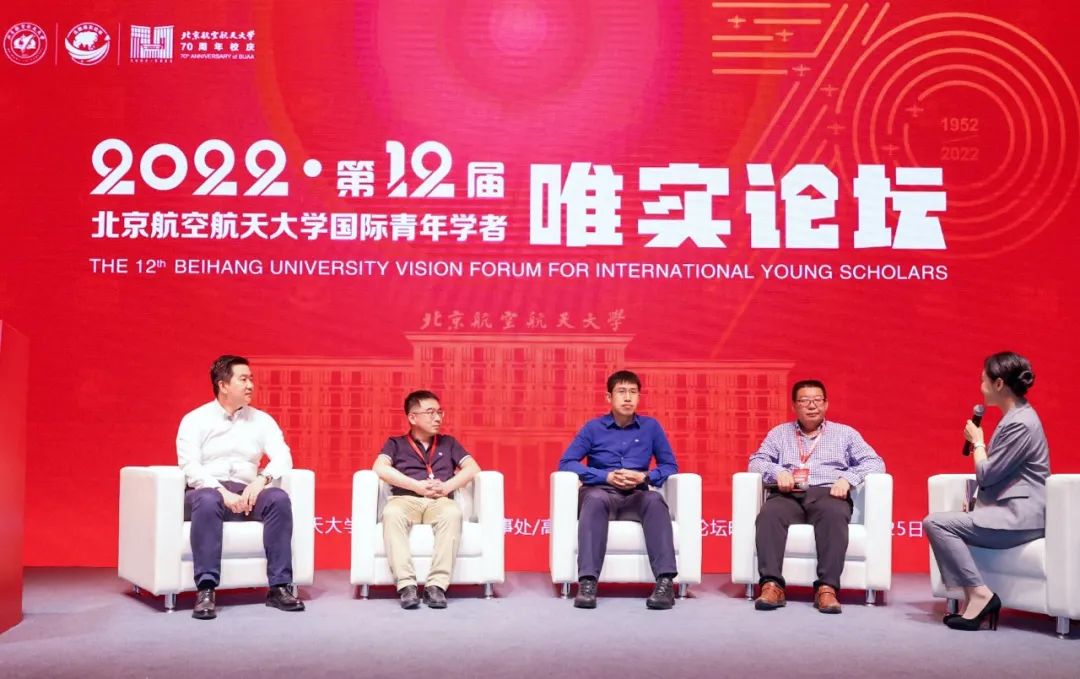 The 12th Beihang University Vision Forum has also set up 30 online sub-forums, which will be held by each school or institute from June 26, 2022 to July 8, 2022.

Vision Forum is a platform for international young talent to have academic exchanges and display academic achievements. It is closely integrated with the university's annual recruitment plan to introduce outstanding young talent from home and abroad. Vision Forum has been held for twelve times since December 2016, attracting more than 230 young talents to join Beihang.
Jun 30, 2022